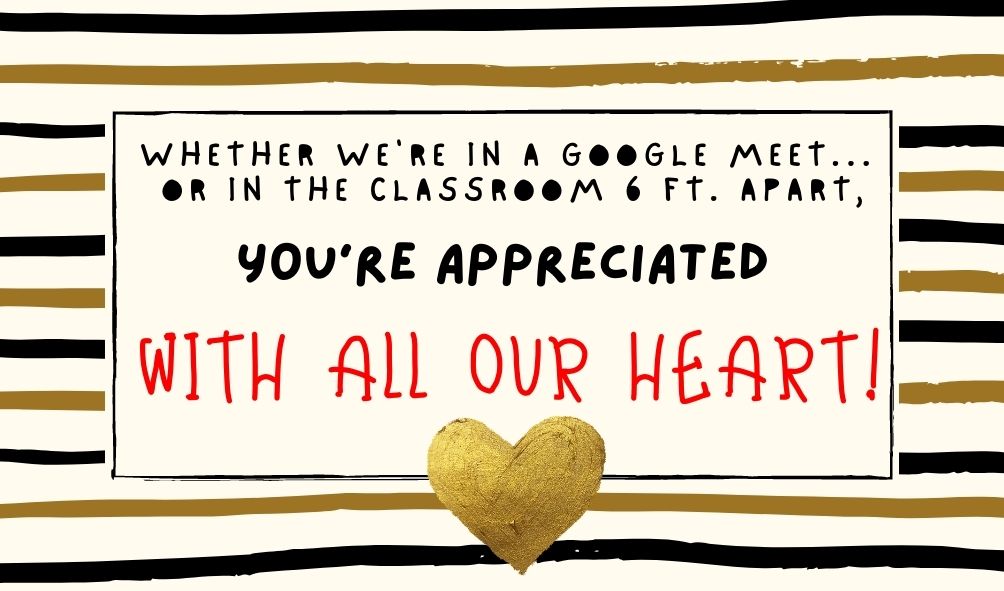 Help us celebrate our wonderful teachers and staff during Employee Appreciation Week, May 3rd – 7th! Below is a list of ways you can get involved!
Make a DONATION for the Employee Raffle- Each day we will be holding raffles for the teachers and staff. We are in need of items for these raffles. The more items received, the more teachers and staff can WIN! Below is a list of donation suggestions. For Questions- Please email: wavespta@gmail.com
Raffle Donation Suggestions- Below are only suggestions for items. We will accept any and all donations! No donation is to SMALL! To pledge a donation, please click the below button and complete the form. All donations must be received by SUNDAY, APRIL 25th!
OUR RAFFLE DONATIONS ARE NOW CLOSED. THANK YOU TO EVERYONE WHO DONATED OVER 70 ITEMS!
Gift Cards for restaurants- ex. Starbucks, Dunkin Donuts, Pizza, Local Restaurants, Uber Eats, DoorDash, GrubHub
Gift Cards for experiences- ex. spa gift cards, sporting events, movies
Gift Cards for stores- ex. Amazon, Target, Walmart, Visa, Itunes, department stores
$1.00 Scratch Off Tickets (We would like to be able to give one to each teacher and staff member)
Gift Baskets- example of possible themes: Game Night, Movie Night, Spa Party, Baking, Pasta Night, Summer Fun, Sports
Physical Items- Flowers, Food Items from a favorite bakery, Item from a favorite local store
May 3rd-7th: Write a THANK YOU NOTE or draw a picture for your teacher or a staff member at Waverly! You can send your note by email or in person (for HYBRID Students) Below is a PDF you may use, or you can create your own!
May 5th- The PTA and Teacher Appreciation Committee will be providing a special Food Truck Lunch for all teachers and staff!
May 7th– SPECIAL TEACHER SPIRIT DAY! Dress in your teacher's favorite color! Ask your teacher which color they love, and be sure to brighten their day by wearing it on FRIDAY!
Teachers and Staff will also receive a special gift to culminate the week from the PTA! Raffle winners will also be announced each day.